Capsaicinoids are the chemicals present in chili pepper which provide the intensity and nutritional benefits. But in people who have complaints of chili pepper allergy, the immune system treats these chemicals as threat to the body. An antibody IgE is released which tries to find and destroy them.
If a person is allergic to peppers than he might be allergic to both hot and bell pepper both. It is consumed as whole, paste, flakes or in powder form.
Symptoms of this allergy are external manifestations of the chemical reactions which takes place inside the body between capsaicinoids of chili pepper and IgE of the immune system.
Chili Pepper Allergy Symptoms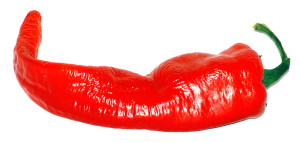 Gastrointestinal Problems – Gastrointestinal symptoms might occur due to consumption of chili pepper or exposure to it. Due to it a person might have a feeling of nausea or vomiting. In worst cases one might get diarrhea too. Stomach pain could also occur which could be either light or in rare cases severe.
Rashes – Mild to severe rashes which also itch might arise due to this allergy around mouth in most cases or whole body. Dermatitis or rash might also occur on point of touch with the pepper. Remember not to scratch other parts of the body as it could spread too.
Other Symptoms
Constipation
Runny nose
Hives
Itching
Redness around the lips
Tingling in the mouth
Lip swelling
Throat swelling
Tongue swelling
Diarrhea
Difficulty in swallowing
Breathing problems
Asthma
Facial swelling
Red eyes
Itchy eyes
Sore eyes
Vomiting
Nausea
Disturbed sleep
Eczema
Low blood pressure
Skin flushing
Hoarseness
Tingling mouth
Headache
Facial redness
The blood tests like RAST and skin patch test can be carried out to identify the chemical which is responsible for this condition. The severity can also be assessed based on which the commencement of treatment is planned.
Chili Pepper Allergy Treatment
Food allergies have no cure as of now. Awareness about the condition, maintaining a list of food products containing the main food and avoiding them are the simple and effective ways of prevention.
While mild symptoms require no treatment per se, moderate severity signs can require antihistamines drugs, eye drops and nasal sprays to deal with. Some people may suffer from the severe form of this allergy called as anaphylaxis.
It is a medical emergency requiring immediate hospitalization of the patient with medical attention available as early as possible. The allergy quickly spreads all over the body and starts affecting the functions of the major organs. Epi-pen is an injection which can be given to the patient in this condition so that the time for hospitalization can be obtained.
It is better to know some of the important Chili Pepper allergy symptoms so as to diagnose it early and prevent it from occurring in future.