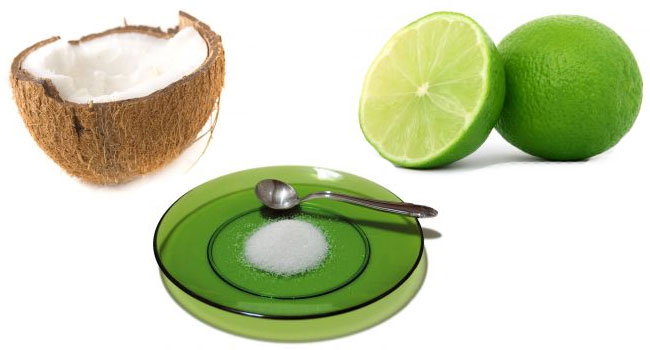 Coconut oil is commonly used for cooking in tropical countries for more than thousands of years. It has various health benefits when consumed in food as it helps ward off many diseases and even builds body's immunity due to its wonderful natural properties. Don't be surprised if someone tells you that you that coconut oil can be used to prepare amazing body scrub. Read this article to know more about how to prepare luxurious coconut oil sugar scrub.
How to Prepare Coconut Oil Sugar Scrub
If you have keen interest in preparing your own beauty products, then you must try out this body scrub recipe. When you include this oil as an agent for preparing body scrub, it gives innumerable improved benefits to skin. This scrub will help you scrape off surplus dead skin and open the blocked pores without any irritation in the skin.
This recipe is just prepared in minutes and works great to pamper your skin. Ingredients used in this recipe are as follows:
Coconut oil – ¼ cup (If it is solid, you need to melt it)
Granulated sugar – ½ cup
Lime zest – 1 Lime
Flavoring oils – Coconut oil or lime oil (optional)
Steps to Prepare:
Take sugar, oil and lime zest in a bowl
Combine all the ingredients and stir properly.
You can add extra coconut oil for desired consistency.
Add flavoring oils for smell or taste.
This is the simple coconut oil sugar scrub recipe and you can store it at room temperature. Use it for exfoliating skin and rinse with warm water. After rinsing, just massage the left over oil on the skin to get a silky and smooth finish on the skin.
When the natural properties of coconut oil is combined with sugar's exfoliating characteristics, the skin will come out with even color, soft texture and closed pores. It can be used over body, face and on feet to get smooth and silky skin.
Properties of Coconut Oil on Skin
Some of the excellent properties of coconut oil like make it an excellent natural product to use on skin. These properties are discussed below:
1. Natural moisturizer –
Coconut oil contains saturated fats in the form of triglycerides or medium chain fatty acids.
The moisture content of the skin remains intact in the skin due to these fats as fats reduce loss of moisture through the skin pores.
So, when this wonderful oil is applied on the skin, it gives a smooth feeling on touching and makes it very soft.
2. Vitamin-E –
As you know vitamin-E is best for a healthy skin as it helps promote skin growth, provides smoothness to skin, repair wear and tear of skin and also protects against crakcing.
It also helps prevent skin wrinkling, premature aging and provides nourishment to skin due to its anti-oxidant properties.
3. Lauric, Capric and Caprylic acids –
These fatty acids have potent antimicrobial and disinfectant properties. So, when this oil is applied on the open wound on skin, it protects from various infections caused due to microbes and also prevent their entry through pores.
4. Proteins –
The proteins present in coconut oil helps keep skin rejuvenated both externally and internally.
Proteins helps repair damaged tissues and it does not become rancid like other oils.
When you lose body weight and reduce fats in the body, it leaves ugly stretch marks on the skin, so, by applying coconut oil on the skin, it helps treat stretch marks, removes folds in the skin and gives a toned and healthy skin. The above properties of coconut oil make it an excellent product to be used on skin. Hope you will enjoy your beautiful skin with this coconut oil sugar scrub recipe.