The Times Of India has quoted India as the "Diabetic Capital of the World", with 50 million people affected in the country alone. (Source). This essentially means that most of us have a diabetic living with us – and it is more common disease than one would think. If you are a diabetes patient, you would very well know that monitoring your blood sugar levels is quintessentially vital for a managing it. In fact, regular monitoring of sugar levels in the body can help with dealing with complications that diabetes brings along effectively. For diabetes patients, along with taking the prescribed medicines, regular monitoring of blood glucose levels is essential.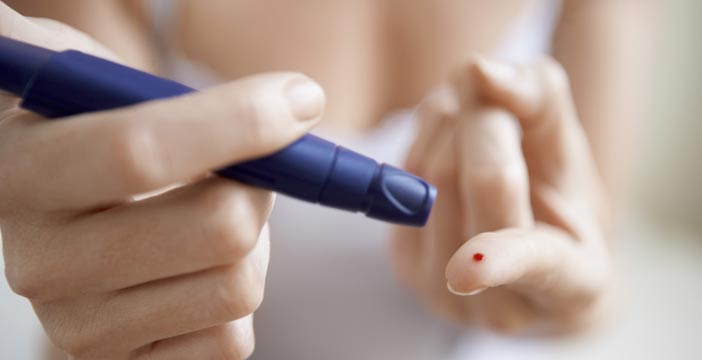 Why Is It Important To Monitor Blood Glucose Levels?
Diabetes patients face the issue of fluctuating sugar levels, and to control it is very vital for maintaining optimum health. Regular monitoring of blood sugar levels several times a day helps in many ways. One can easily make changes to your diet, physical activity levels and medicine, as the case may be. Frequent monitoring of blood sugar levels can:
Help you to know which foods cause a spike in the sugar levels and hence should either be consumed in moderation or avoided altogether.
Help you adjust your medicine, insulin shots etc. if the levels are too high or too low.
Effectively plan your levels of physical activity to optimally manage the condition.
Avoid the severe complications of diabetes like effects on kidneys, eyes, and feet to a large extend.
Help you avoid dangerous side effects of fluctuating sugar levels.
How Can I Check My Blood Sugar Levels?
Regular and frequent monitoring of diabetes is largely suggested to avoid the side effects of diabetes. It is advised that a blood sugar level test called as A1C is done every 2-3 months. This test will enable the doctor to understand your blood sugar levels widely. However, with self-monitoring of blood glucose levels several times a day, you can improve your blood glucose levels much more efficiently. Now, if you are thinking that you will need to rush to the hospital or clinic to get your blood tests done, you are wrong. For the sake convenience, the medical field has developed easy to use blood glucose monitors (also called a home blood sugar meters, glucometers or glucose meters). It gives accurate and immediate results within seconds and help in managing diabetes optimally.
Top 5 Self Blood Glucose Monitoring System In India In India That Gives Accurate Results
Now that you know how self-monitoring of glucose levels can help you contain diabetes effectively, the next question that will pop is 'which self blood glucose monitoring system should you buy' for home use. There are many glucometer brands , but you should opt one that suits your needs and pocket. You will also get plenty of references from friends and family too. However, you should decide on a glucometer basis the features it offers, pricing and ease of use. In order to help you make an informed decision, we have listed below the 5 best glucometers available in India.
1. Dr Morepen BG-03 Gluco One Glucometer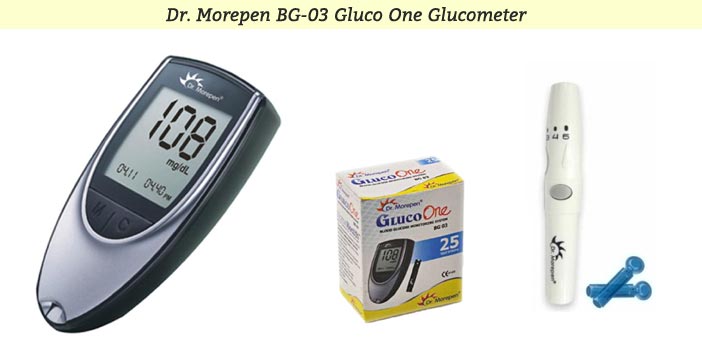 This compact and ergonomic glucometer is quite popular because of the ease of use and fast and accurate results. The values on the monitor are easily readable and it needs just 0.5µL of blood for carrying out the test. It has a beeper alert when the blood sample is read, and also beeps when you insert the strip and get the result. The lancet is easy to use and the test strips are readily available at most pharmaceutical shops. Comes packed in a plastic case and can be easily carried anywhere. It also has features like storing readings upto the count of 300. It weighs just 40 gms and displays the result in just 5 seconds.
Price of Dr. Morepen BG-03 Gluco One Glucometer: With 50 test strips, it will cost your approximately Rs. 800, while only the glucometer can be purchased for under Rs. 400.
2. Accu-Chek Active Blood Glucose Meter Kit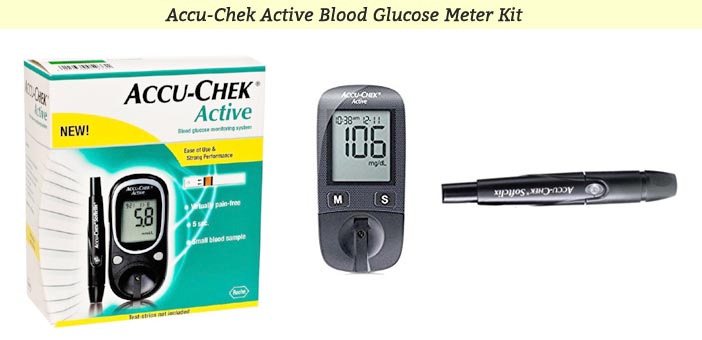 This one is a huge favorite among many people owing to its global performance standards on accuracy. With a 2 button navigation system, it gives fast and accurate results with a small drop of blood in under 5 seconds. You can also tag the readings as pre or post meal, and the readings can be easily transferred to a computer for evaluating the tests. The memory function enables 500 readings to be stored and one can even view the average test values for 7, 14, 30 or 90 days. The lancing device can be loaded with 6 lancets at one time and is deemed as most painless lancing device. However, the test strips are quite expensive and the battery needs to be changed about twice a year, making it slightly heavy on the pocket.
Price of Accu-Chek Active Blood Glucose Meter Kit: A pack of Accu-Chek Active Blood Glucose Meter Kit with 100 strips will cost you approximately Rs. 1300.
3. Johnson & Johnson One Touch Ultra Easy Glucometer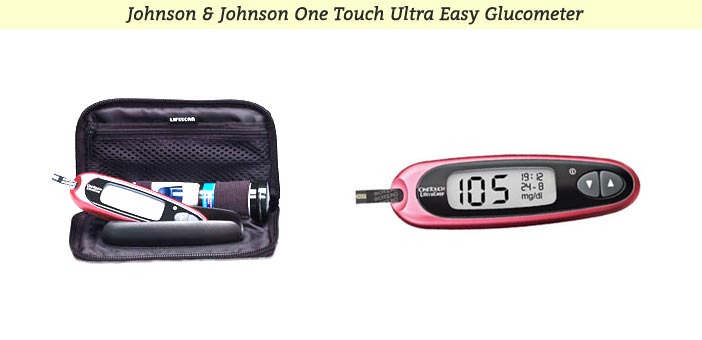 Unlike other glucometers that require coding and setups, One Touch Ultra Easy Glucometer is simpler to use and does not have any buttons that can generate confusion. It has alarms for high and low blood sugar readings and gives accurate and instant results with a small drop of blood. Because it is simpler to use, it is largely preferred by elderly people. It is one of the most cost effective glucometers in India and is very reasonably priced. It is also lightweight but the display screen with its small size and no back light can make it difficult to read the values. It also does not offer any stored measurements and cannot be synced in with a computer to evaluate the trends. However, it is the slimmest glucometer and can even be carried in a wallet!
Price of Johnson & Johnson One Touch Ultra Easy Glucometer: This basic glucometer can be bought for under Rs. 1000.
4. Omron HEA-230 Glucometer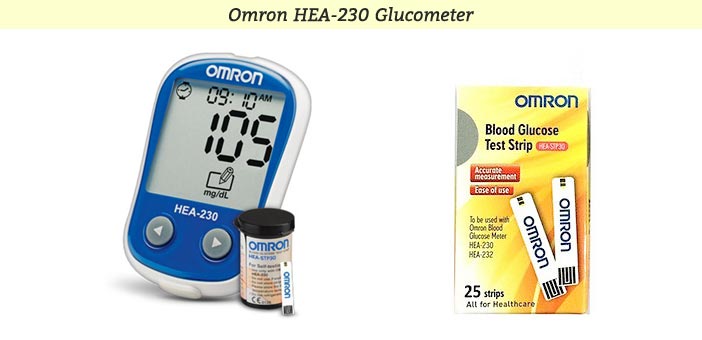 Equipped with a large LCD screen that makes reading easier, the Omron HEA-230 glucometer can store upto 512 readings and needs only 1 µL of blood sample. The result after drawing the blood can be seen in under 5 seconds. You can check the average values for 7, 14 and 30 days. The device uses AAA batteries and can be replaced when it runs out.
Price of Omron HEA-230 Glucometer: The glucometer with 10 Lancets can be bought for approximately Rs. 1300.
5. Bayer Contour Next USB Glucose Meter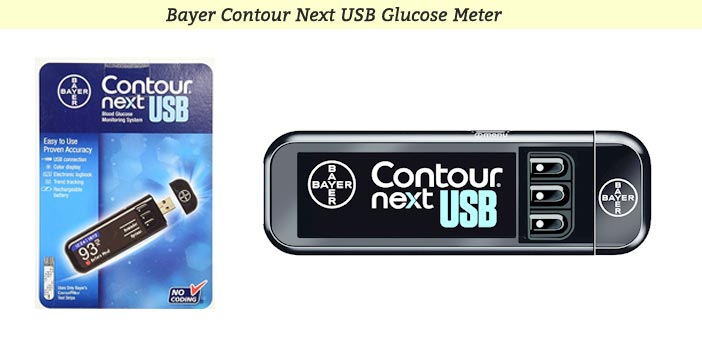 This is an easy, compact, sleek and ready to use glucomonitor gives accurate results with just a small drop of blood in just 5 seconds. The display meter is bright, easy to read and can be connected to a computer for instant access and study of glucose levels trends. It can even be programmed to beep at regular intervals so as to remind you of taking a test. The device can store upto 2000 measurements and the battery is rechargeable. It does not require coding and the meter beeps to correctly prompt the insertion of the strip. However, the lancing device could be a deterrent for some people and some people could find the high price overwhelming ..
Price of Bayer Contour Next USB Glucose Meter: This highly efficient imported glucometer can be bought online for a little more than Rs. 6000.
How To Use A Self Monitoring Blood Glucose Glucometer?
Most glucometers starter kits will contain the below –

A blood glucose meter
lncing device
A vial of test strips

Lancets
Once the coding (if required) and other parameters are set, you should wash and clean your hands with warm water. Pat them dry and insert the test strip in the glucose meter in the slot provided. The glucometer will show a sign (usually a beep or a drop on the LCD) to indicate that the strip has been inserted correctly.
Insert a lancet into the lancing device and use it to get a sample of blood from your fingertip. Some people prefer the side of the finger tip, while some like to go with the top.
Once the blood comes out, apply the droplet to the test strip attached to the glucometer at the space indicated. It is usually the top edge of the test strip. Make sure you apply enough of the droplet to get accurate results.
Your meter will count till 5 and display the result on the LCD screen.
If there is an error message, try the same process with another test strip.
So here is a simple and effective guide to help you buy the right glucometer for personal and home use as per your requirements. Seek your doctor's advice on the number of times you need to test sugar levels. The do's and don'ts when your sugar levels are within or beyond the ranges specified for you. Frequent testing will ensure that you are able to make changes in your lifestyle and eating habits and manage the condition of diabetes optimally.