The aromatic pandan leaves often find culinary uses in South Asian and Southeast Asian kitchens. Belonging to the screwpine genus, it derives its common name as Pandan leaves from its botanical name Pandanus amaryllifolius. In India, it is known by many names such as Ambemohor pat in Marathi; Ramba in Tamil, Biriyanikaitha in Malayalam and बासमतिया पौधा in Maghai and Bhojpuri due to its fragrance.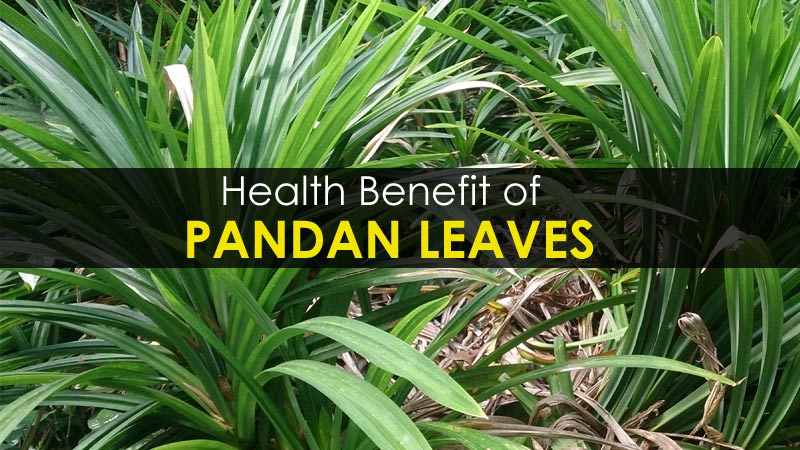 It is also known by many names in Srilanka, Burma, Indonesia, China, and Vietnam. Kewda is the most popular name for pandan leaves in India, and it is used as a spice and a flavoring agent in cakes and sweets. The characteristic aroma of the pandan leaves is often used as a cheap alternative to making up for highly fragrant basmati rice in dishes such as biryanis, pulaos and sweet treats made from rice.
Common Names of Pandan Leaves
Indonesian: Pandan wangi
Burmese: Hsun hmway
Thai: Bai tooey
Sinhala: Rampe
Khmer: Sleuk toi
Chinese: Qi Lan Ye
10 Amazing health benefits of Pandan(Kewda) leaves
Pandan leaves have also been traditionally used as a medicine to treat ailments like fever and indigestion. However, studies have proved that pandan leaves can offer many health benefits such as-
1. Helps in lowering blood pressure
Drinking a potion of pandan leaves twice a day helps in lowering symptoms of high blood pressure such as dizziness and tiredness.
2. Helps in controlling blood sugar
Though an investigation is still needed, yet studies have shown that drinking extract of pandan leaves can help reduce the plasma glucose levels. This implies that people with diabetes can benefit from pandan leaf tea extracts. As per a study done by Chiabchalard & Nooron, extract from Pandanus amaryllifolius could induce the production of insulin in rat pancreatic cell. Further research is required to use it in the mainstream medicine.
3. Excellent remedy for pains and cramps
Pandan leaves have been traditionally used for pain relief. Stomach cramps can be effectively treated with pandan leaves owing to their laxative properties. Applying pandan leaves soaked in heated coconut oil can provide relief to arthritis patients.
4. Acts as a natural mosquito repellent
Rubbing extract of pandan leaves on body skin that is exposed will keep mosquitoes away. This is an excellent natural repellent for mosquitoes which can cause several diseases, especially during monsoons.
5. Rich in nourishing essential oils
Pandan leaves contain essential natural oils such as glycidudes, alkaloids, traces of tannin and isoprene esters. These can work wonders in boosting your overall health.
6. Helpful in gout
Drinking boiled screwpine (pandan) leaf water is known to reduce uric acid levels in the body and can help deal with gout. Drinking pandan leaf boiled water at regular intervals can also help you get rid of kidney stones.
7. Natural repellent for cockroaches
Pandan leaves when soaked in water and used as a spray can act as a natural and safe cockroach repellent. It is safer than using the store bought chemical repellents and can help you get rid of these infection-spreading scary roaches effectively.
8. Anti-carcinogenic properties
Pandan leaf tea prevents cancer cells from growing and acts as a barrier to harmful effects of toxins. It is believed that pandan leaf tea when consumed regularly can also help to heal some cancers when used along with regular therapy (source).
9. Used for skin and hair health
Pandan leaves can help you get rid of dandruff and cover your greys. Rubbing a paste of pandan leaves soaked in water can effectively treat skin problems too making it glow and shine.
10. Boost your appetite
Pandan leaves can also be used to boost appetite if you do not feel like eating or have just recovered from an illness and have an aversion to food.
What do pandan leaves contain?
Now that we know the many health benefits if pandan leaves, it leaves us wondering what does this tall grass-like plant contain. Pandan leaves basically contain essential oils like isoprene esters, tannins, glycosides, and alkaloid and other organic compounds that have a rich scent and offer immense health benefits. All these oils work wonders for pain relief, cramps, fever and even as repellents for mosquitoes and cockroaches. Laxative properties of pandan leaves have been proven to be effective for headaches and stomach disorders.
What do pandan leaves taste like?
Known for its aromatic taste and fragrance, pandan leaves lend a nutty flavor to the dishes the dishes they are added to. Pandan leaves are often compared to vanilla pods because of their milky-sweet taste that tastes a bit like almonds. The grass-like long leaves are a delight to the tastebuds and lend a very natural, sweet aftertaste, boosting the appetite and the mood. However, the flavor is released only when pandan leaves are either boiled or crushed. Dried leaves have no flavor. They are often juiced with water as the base and crushed to get the extract.
Can Pandan leaves be frozen and used?
Frozen pandan leaves are available at grocery stores where they are not available as freshly grown. They do not work as well as fresh ones but can be substituted for them. You will need to use thrice as many leaves to get the aroma and taste of fresh pandan leaves in a recipe. Frozen leaves need to be thawed at room temperature, rinsed well under water and then dried before you actually use them. Do not use any discolored leaves else this will affect the overall flavor. Different brands may give you different tastes and experiences, so it will be sometime before you know how to use frozen pandan leaves as a perfect substitute for fresh ones. You can also freeze fresh leftover leaves and use them within a month to get the maximum taste and aroma. Freezing does reduce their flavor, so go with your gut and taste when using them instead of fresh pandan leaves.
Can I eat pandan leaves?
Pandan leaves are used as a flavoring agent in many sweet and savory dishes. Their milky-vanilla like nutty flavor appeals to many people. You can chew fresh or dried pandan leaves if you have gum pain or are suffering from oral problems. However, some varieties of pandan leaves are not to be eaten or ingested as such, so make sure you do not swallow them if you are not sure.
Are there any side effects for Pandanus amaryllifolius?
The most important point to know is that pandan leaves have not been reported to have any side effects as such. With such amazing health benefits, it is but very much important to have them in the house and use them for their incredible benefits.