Winter season is the worst enemy of your skin, as it can make the skin very dry. The dry air with low humidity levels and cool weather will rob the skin off its moisture. This can make the skin have a rough and dry texture while offering it an uneven skin tone. Cold weather conditions can be very harsh sometimes, which can make it very challenging for you to have a naturally glowing and moisturized skin. It is important to keep your skin well hydrated to prevent it from getting dry and maintain its youthful glow. Trying a few home remedies will help you have a smooth and radiant skin that is free from itching, flaking, chapping and reddish look.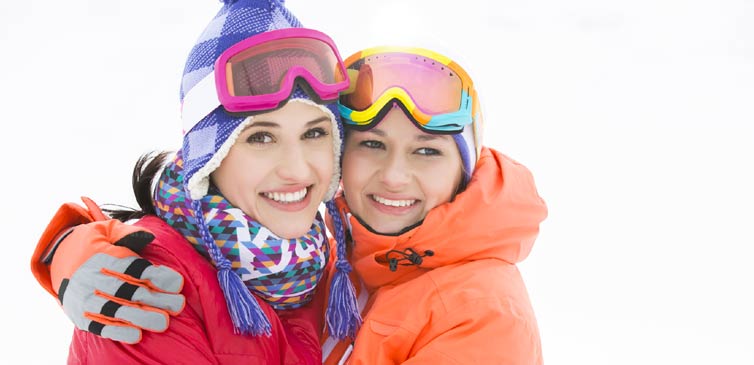 Best Home Remedies For Glowing Skin In Winter
Try these home remedies that are mentioned below to help your skin have a natural glow throughout the winter.
1. Bananas
Bananas are well known for their hydrating and moisturizing properties and are available in abundance. Applying a face mask using this wonder fruit would make your skin stay free from dryness. Prepare any one of the face masks mentioned below and feel the smoothness of your nourished skin. Bananas are one of the best natural remedy for radiating skin.
Banana with Milk Cream: Use half a piece of a fully ripe banana and add a tablespoon of milk cream to it. Mix well and apply as a thin layer on the face and neck. Leave it for 30 minutes and wash using cold water. This banana pack will moisturize, lighten and imparts a natural glow to your skin.
Banana and Lemon: Take 1 tablespoon of well mashed banana and milk, add a few drops of lemon juice and ½ teaspoon of honey and mix well. Apply it on your face and rinse when dry. It is a best remedy to alleviate dry skin and nourish it immediately. Repeat application of this pack twice a week to get good results.
Banana and Butter: Mash a full banana, add 1 tablespoon of cooking butter and mix well. Apply it on the face and allow it to dry. Wash it with a mild face wash. The butter used in this face pack is a natural moisturizer and makes the skin soft and supple.
Banana and Rose Water: Prepare this moisturizing home remedy by mixing a tablespoon of rose water with mashed ripe banana. To this mixture, add half teaspoon of honey and apply on the neck and face. Remove the mask with water after 20 minutes.
2. Honey
Honey can do wonders to your skin when you use it externally or consume it. It is an apt choice for preparing home remedies for the skin during the winter season, as it can nourish all skin types and keeps it soft.
Honey and Curd: In a bowl, pour 3 tablespoons of curd and one and a half tablespoons of honey to make a mixture. Then spread it on the face and leave it to dry for 15 minutes. This face pack cleanses the skin, nourishes it and makes it glow every time.
Honey and Egg: Egg is known to make the skin firmer and offers a smooth feel. When you use it with honey, your skin will have a moisturized, fair look and softer texture. Mix egg white and honey in a bowl to prepare the mask. Apply a thick layer of this mixture and leave it for 30 minutes. Rinse well with water and apply a moisturizing cream.
Honey and Cucumber: Cucumber is known for its cooling properties and can remove sun tan as well as skin pigmentation. Extract the juice from a half cucumber by blending it. Then add a tablespoon of honey and mix well. Apply it on the face and rinse after 15 minutes.
3. Almonds
It doesn't matter whether you are using the paste of an almond or almond oil for your skin. This crunchy nut is loaded with Vitamin E to provide extra nourishment to your skin that makes it a perfect remedy for naturally slowing skin in winter.
Almond and Milk: Make a face pack by grinding 5 almonds that are soaked overnight. Make sure that you peel it before grinding. Add a tablespoon of milk to the almond paste and mix. On cleansed face, apply the face mask and wash it after half an hour.
Almond Oil and Lemon: Take 2 tablespoons of almond oil, lemon juice and aloe vera gel, mix well and apply it on the face and neck. Leave it for 20 minutes and wash off. This home remedy helps the skin to look fairer and stay nourished.
Almond Oil and Avocado: Avocado is known for its aphrodisiac properties that helps in combating dry skin issues. Take 2 tablespoons of ripe avocado and add a teaspoon of almond oil and a few drops of honey. Mash well to make a smooth paste. Now apply the cream on the face and neck. Allow it to dry well for 30 minutes. Wash it with warm water and pat dry with a soft towel.
4. Yogurt
Some of you may be surprised to find yoghurt on this list of home remedies for winter. But, curd is an excellent skin remedy, as it can improve the complexion, hydrates the skin and makes skin super soft. If you are looking forward to flaunt a super glowing skin when you step out on a wintry day, then try the home remedies mentioned below.
Yogurt and Oatmeal: Make a mixture by mixing one teaspoon of curd with 2 teaspoons of oatmeal powder. To it add a teaspoon of gram flour and mix well to make it very smooth. Apply this face pack using circular motions on your face and neck. Let it stay for 30 minutes and wash with cool water.
Curd and Rose Water: Take one tablespoon of sour curd, ¼ teaspoon of turmeric powder, add a few drops of rose water and honey. Apply on the face and neck while avoiding the eye areas. Wash after leaving it for 20 minutes.
Yogurt And Orange Peel: Add 2 spoons of thick and sour curd to a teaspoon of dried orange peel powder. Apply this pack on the neck as well as face and leave it for 20 to 30 minutes or until your face feels stretchy. Then wash using circular motion to improve radiance, complexion and nourishment.
5. Papaya
Papaya is a useful fruit that can make the skin very supple by moisturizing and enriching it with the needed nutrients. It can improve the moisture of the skin layers by alleviating dryness that makes it an excellent choice for the winters.
Papaya and Milk: Prepare a smooth paste using a tablespoon of papaya and 2 teaspoons of milk. Apply the paste and wash with water after dry.
Papaya and Lemon: To half a cup of mashed papaya, add 1 teaspoon of lemon juice and a few drops of honey. Make a smooth paste and apply on the face and neck. Leave for about 25 minutes and wash using cool water.
6. Turmeric
Wonder herb turmeric is widely used in skin care products. Presence of 2% curcumin in it makes it one of the most important herb used in ayurvedic medicines. There are several health benefits of turmeric primarily in skin care. It helps in removing blackheads, gives relief from acne and helps in eliminating black spots.
Blackheads: Make a paste out of turmeric and mustard seeds. Spread small amount of this paste lightly on the affected area and leave it overnight. Wash it with water mixed with small amount of gram flour in the morning.
Cosmetic cream: Mix 1 tbsp turmeric and gram flour together. Add this to half cup of curd. Mix it well. Apply this paste over face and wash it after nearly half hour. It helps in getting rid of black spots and pimples.
We have compiled these nourishing home remedies for the winter season with simple ingredients that are available in every home to help you have a radiant and glowing skin without having to spend more.