Massaging the baby with oil prior to a bath is a traditional practice in India and offers several health benefits to the baby. Regular oil massage can strengthen the bones of your baby and helps in having a peaceful sleep. The massage strokes can improve the baby's skin texture and aids in quick digestion. The massaging activity helps the mother to bond with the baby and benefits both of them, as it releases oxytocin hormones simultaneously that prevents postpartum depression in mother and comforts the baby. In short, it has a pivotal role to play in the development and growth of the baby.
Even though the market is flooded with many baby lotions and creams, mothers prefer baby oils for massage, as it has natural oils that can pamper the baby skin with rich moisturizing properties and helps the baby to grow quickly. However, it is important for you to choose a baby massage oil that can complement the sensitivity and skin type of your baby to get the best results.
Some massage oils for babies have a light formulation to get absorbed into the skin quickly while some have a shiny and slippery layer to keep the skin well hydrated even after a bath. Always choosing a baby massage oil that has an edible oil as the base is a wise decision, as your baby will lick her fingers during the massage.
Top 5 Baby Massage Oils In India
We have compiled the list of best 5 baby massage oils in India along with the features of each to help you choose the best oil that can meet your baby's skin and massaging needs.
1. Himalaya Baby Massage Oil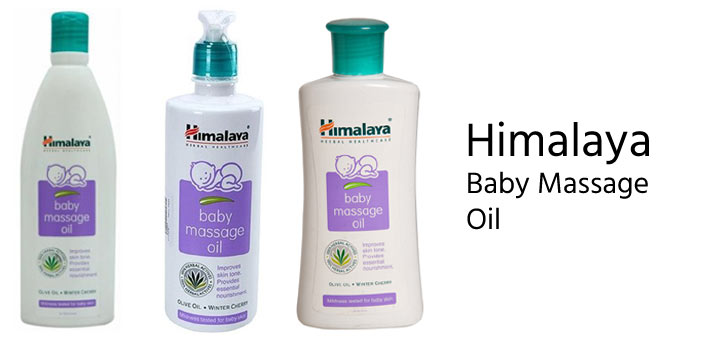 Himalaya is a well known Indian brand that specializes in offering several skin care products for babies and adults that are formulated with natural ingredients. The baby massage oil from this brand is an excellent choice or your little one, as it has the nourishing ingredients and is enriched with Vitamin E. This massage oil has undergone clinical tests to make sure it is gentle enough for your baby's skin. It can be used for a massage before the baby's bath and after the bath as a moisturizing product.
Features
The presence natural ingredients, such as winter cherry, olive oil and aloe vera makes it safe for use on baby
It is a lightweight oil and does not feel greasy on the baby's skin
It has a soothing fragrance and nourishes the skin
Rich with antimicrobial properties and keeps the baby skin free from infections and allergies
This multipurpose oil can improve the strength of your baby's nails while keeping the cuticles soft
2. Dabur Lal Tail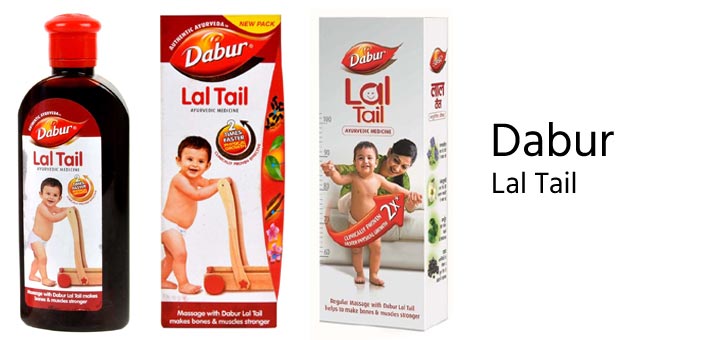 Dabur, the highly popular player in the Indian market offers this baby massage oil with an ayurvedic formulation to provide the babies with loads of health benefits. As the Dabur Lal Tail is made with handpicked pure and natural herbs, it is very safe for the baby's skin. The oil keeps the baby skin soft and supple by offering excellent nourishment. The herbal extracts in this massage oil prevents wrinkles and dryness on your baby's skin.
Features
Oil has Masha and Shankhpushpi for improving the muscle and bone strength in babies
The ingredients like Ratanjot (gives a red tint to the oil) and Shankhpushpi improve the baby's skin health and complexion
Presence of Cinnamomum Camphora in this Dabur product keeps away all types of skin diseases
The perfect blend of sesame oil (Tila Tail) and Sarala Taila improves the blood circulation
Dabur Lal Tail helps the babies to enjoy a good sleep and aids in overall physical growth
It is a dermatologically tested product.
3. Johnson & Johnson Baby Oil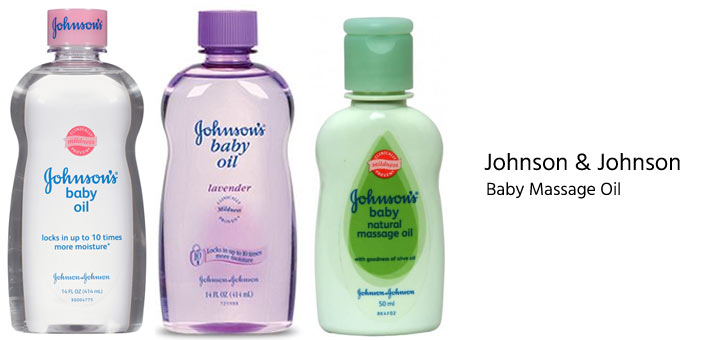 Johnson & Johnson is a popular player in the market for baby care products in India. If you are on the lookout for a gentle baby oil that can take care of the moisturizing needs of your baby's skin, then this oil is a good choice. It can be used for massaging the tender skin of newborn babies, as it can keep it moisturized until the next bath time.
Features
This baby massage oil is a clinically tested product
It has very mild formulation that makes it an apt choice for the newborns
Its light consistency helps the baby's skin to absorb it quickly
It is enriched with Vitamin E, minerals and Barbadensis extract to maintain the skin health in babies
It is an ideal choice for babies during the summers, as it controls excess sweating
4. Biotique Bio Almond Oil Baby Soft Massage Oil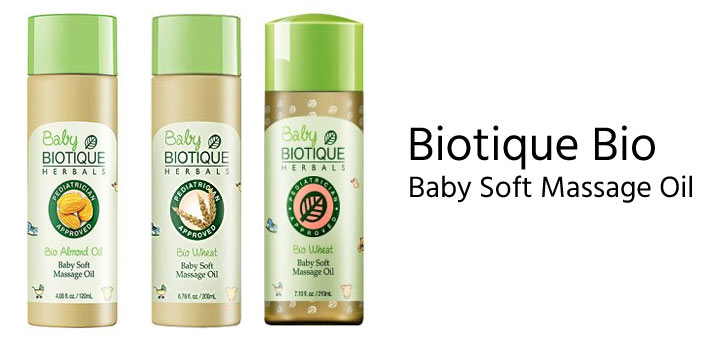 The products offered by Biotique are known to have 100% natural ingredients and this oil is specifically offered with rich hydrating ingredients to nurture the baby's skin. The Biotique Bio Almond Oil Baby Soft Massage Oil has an easy to spread consistency and softens the baby skin without any greasy feel. It can be used for after bath and before bath massaging needs. The perfect blend of coconut oil, margosa oil, sesame oil and almond oil makes it a great nourishing product.
Features
The presence of coconut oil in this baby massage oil helps it to keep the baby's skin very soft
The neem oil in this product offers it antibacterial properties and the sesame oil with emollient properties hydrates the skin layers
This Biotique product has almond oil that is known for its antioxidants
It is rich in Vitamin E to protect and improve baby's skin complexion
The oil has wild turmeric and turmeric to protect the baby's skin from infections, rashes and allergies
5. Pigeon Baby Oil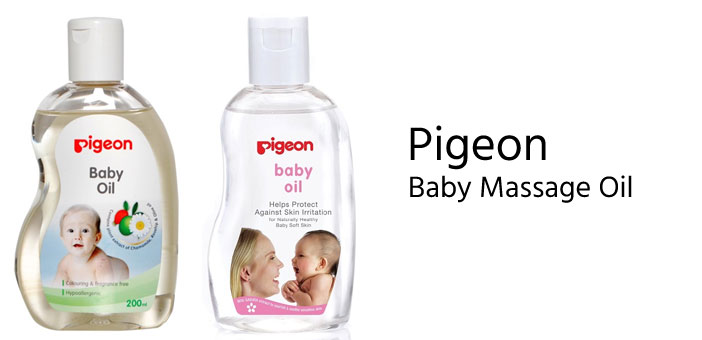 This baby massage oil from the well known Indian brand, Pigeon has all essential ingredients to protect the baby's skin from irritation and dryness. Such nourishing properties make the Pigeon Baby Oil a good choice for baby massage during the winters. This oil can be used for babies as it is hypoallergenic and has antiallergenic properties. It is dermatologically tested and is free from fragrance and colors. Parents can use this massage oil for their newborn babies without any concerns.
Features
The Pigeon Baby Oil is enriched with the perfect mixture of nourishing oils such as jojoba oil, olive oil and rosehip oil
It has Vitamin E and extracts of chamomile for hydrating the skin of newborns, babies and toddlers
The oil does not alter the pH balance of your baby's skin
It offers a healthy glow to your baby's skin and promotes the blood circulation
It can be used for massage round the year
You can choose any one among the above listed oils to make your baby's massage time, a highly rewarding one. Apply a few drops of the baby oil as a small patch on the hand of your baby to check whether it is compatible with her skin. Avoid using the oil if you find the skin turning red or develops rashes. However, most of the baby massage oils offered by the top brands are very safe for your baby.
Spend a few minutes every day for massaging your baby with the oil using gentle strokes and talk with your baby to have a fun filled massage session every day.