Brussel sprouts are vegetables belonging to the family of cabbage. They are rich sources of sulforaphane and indole-3-carbinol known for anti-cancer and DNA repair properties. But, brussel sprouts allergy is reported by individuals whose body is sensitive to these otherwise beneficial natural chemicals. This article tries to learn about the symptoms and treatment of this brussel sprouts allergy.
Scientifically no allergen of this plant in pure form has been yet verified. Lipid transfer protein or LTP has been found in Broccoli which is a close family member of Brussel but it is not yet confirmed if it is present in it. However, people do complain about this allergy and we have collected this data from the web especially forums which might give insight to people who develop symptoms out of eating it.
Brussel Sprouts Allergy Symptoms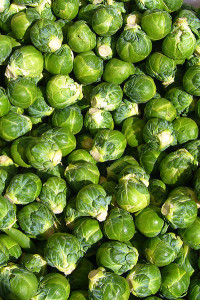 Below are some of the primary symptoms of Brussel Sprouts Allergy which is very similar to other forms of food allergy:
Itching
Swelling of face, arms and feet
Skin rash
Difficulty in breathing
Skin color changes
Runny rose
Headaches
Stomach pain
Drop in blood pressure
Dizziness
Allergic reactions spreading all over the body rapidly
Awareness of these symptoms can help in early consultation with the doctor. A type of blood test known as radioallergosorbent or RAST test can identify the chemical behind the allergy or the allergen. Later, a skin patch test can confirm the condition.
Brussel Sprouts Allergy Treatment
The immune system is the natural protection mechanism of the body. A protein called IgE found in the blood is part of this system. Its responsibility is to deal with the allergens and protect the body from them.
In some individuals, the immune system mistakenly identifies the beneficial chemicals in a substance to be threat to the body. These chemicals are targeted by IgE as part of the defensive response. Such over-response initiates certain undesirable reactions in the body known as allergy.
Unfortunately, there is no cure for food allergy. The treatment aims at keeping the symptoms of the allergy under check. Blood test and skin patch test can find the probable allergens and confirm the condition by verifying the signs.
Prevention is better than cure. So the first step to get rid of this allergy is to stay away from brussel sprouts. This simple step can control the mild signs. However, moderate to severe symptoms of allergy from brussel sprouts may require antihistamine drugs.