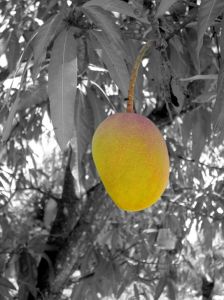 Food allergies are very common nowadays and can be caused due to any foods that the body becomes sensitive to. Citrus fruit allergy is a common allergy that many people may suffer from. However, some people may also suffer from mango allergy which occurs due to a contact with Mangoes.
Mango (Mangifera indica) is a fruit primarily produced in Indian subcontinent especially in India and Burma. It is national fruit in India which produces 50% of total world mangoes. It can be taken fresh while there is season and otherwise could be consumed as juice, pickles or jams.
Mango allergy is different from other fruit allergies because it belongs to the family of plant to which poison sumac and poison ivy also belong. This allergy is caused due to a contact with the skin of the fruit and generally results in symptoms of contact dermatitis. The symptoms are more evident around the mouth because of the close contact.
The allergy from mangoes occurs due to the chemical called urshiol which is present in the peel of the fruit. Urshiol is also an active compound in poison oak leaves and is the cause of rashes from poison ivy. Fortunately, the amount of this chemical present in mangoes is much less than poison ivy and therefore the symptoms are also much less severe. This chemical is more in green mango than in ripe.
Mango ingestion provocation test is one of the most common and reliable tests for this condition. However prick test could also be done to find the sensitivity to Mango. Do remember to do all these types of test in strict medical supervision.
Mango Allergy Symptoms
The symptoms of mango allergy are similar to the symptoms of poison ivy allergy and contact dermatitis. Some of the common symptoms include:
The area around the mouth tends to turn red
There is a breakout of hives and rashes all over the body, especially in the areas where there has been a contact.
Runny nose
Fever and general malaise
Tightness in chest, congestion and difficulty in breathing
Dyspnoea
Hoarseness
Erythema
Urticaria
Angioedema
Anaphylaxis(rare)
Asthma
Respiratory distress or dyspnoea is most common symptoms of this allergy which could occur in 8 out of 10 cases. It is very rare for a person to experience an anaphylactic shock due to a mango allergy.In case of severe reaction, epinephrine injections are administered. In rare cases this allergy could be life threatening for some of the susceptible individuals. The symptoms for this condition might appear immediately for most of the cases or within 30 minutes. Delayed hypersensitivity is very rare and could happen as contact dermatitis.
Mango Allergy Treatment
There are not many people who get allergic to peeled mangoes. Since the chemical urshiol is present specifically in the leaves and the peel of the mango fruit, it is best to avoid contact to both. If you are eating mangoes, be sure to peel the skin off before you consume them. Anti histamines and over the counter drugs can be used to treat some of the allergic reactions. Topical creams and ointments that contain steroids can be used to treat rashes and hives which may have broken out.
Note: This allergy primarily occurs in places where cultivation of this fruit does not occur.