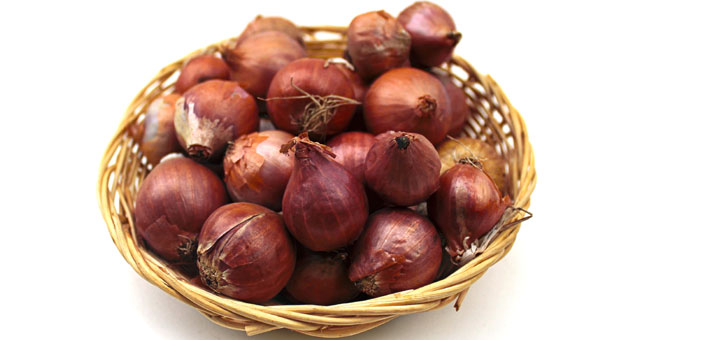 Onion is the most common vegetable that is cultivated and eaten widely throughout the world. But, it also leads to some allergic reactions in some people as soon as they eat onion. Though, the reactions are mild, but can become serious if not treated seriously. On rare occasions, it can also prove to be a deadly reaction.
People with onion allergy can get affected with either cooked or raw onions. Raw onions are rich in protein and sulfur content, thus they cause more allergy than the cooked ones as cooking and frying denatures the protein present in it. This is the reason why people do not get allergy with cooked onions.
Onion is widely used in food recipes, it is hard to find a recipe without onions as it imparts a different taste and aroma on foods. Many fast foods, salads, sauces and ketchup are impossible to prepare without onions. If a person is having onion allergy, he should not consume and smell foods containing onions, because if a person is quite sensitive to onion vapors, then even the vapors can lead to severe allergic symptoms.
If you feel strange discomfort and breakout of rashes etc after consuming onions, you suffer from a rare onion allergy. This allergy is caused by exposure to or consumption of onions. Usually those who suffer from this allergy experience bloating, gas and digestive discomfort. However, generally but not always onion allergy is caused by raw onions.
For those who suffer from onion allergy, cooking the vegetables before consumption might help overcome this allergy in some cases. Usually those who are allergic to onions could also be allergic to garlic.
Causes of Onion Allergy
Onion allergies are caused due to hypersensitivity of a person to the substances present in this vegetable.
Our immune system identifies this vegetable as hazardous and thus, it releases Immunoglobulin E, an antibody into the bloodstream
These antibodies fight against the proteins present in onion and leads to release of histamine through mast cells present in soft tissues throughout the body
When an increased amount of histamine is released into the body, it causes inflammation in the body tissues and causes common symptoms of allergy
Onion Allergy Symptoms:
Since onion allergy is a contact allergy, most of the symptoms of contact dermatitis are apparent in this allergy. There are symptoms that occur on the skin, as well as discomfort in the digestive tract. If a person is allergic to onion, the symptoms can develop within minutes of consuming onion and it can take up to an hour before surfacing. Some of the common symptoms are:
Breaking out of skin in hives,
Itching all over the body
Gas
Nausea
Diarrhea
Headaches and migraines
Shortness of breath
Chest tightness
Coughing
Wheezing
Migraine or headache
Rashes
Abdominal pain
Facial swelling
Vomiting
Eye irritation
Though possible, it is rare for onion allergy to become fatal. Some people who have a severe allergy to onions may go into an anaphylactic shock and should therefore be extra careful while eating these. You must dial an emergency number when you experience some severe symptoms including an increased heart rate, swelling on lips, metallic taste in mouth, light-headedness, hives and sudden drop in blood pressure. These are some of the important signs of severe allergic symptoms of onion allergy which could also lead to a person's death. So, these allergic symptoms should always be kept in mind if you are allergic to onion.
Usually, those who claim to have an allergy to onions, are simply intolerant to onions. They may experience cramping and bloating in their abdomen which is because the body is unable to process and digest raw onions. This is usually manifested in the form of indigestion and therefore can be differentiated from an actual allergic reaction.
Tests to Check Onion Allergy
There are some tests to check whether a person is allergic to onion or not. These tests are conducted to check for allergy as it is not possible to be confident about allergy by just looking at the symptoms. A doctor will do these tests to confirm your hypersensitivity to onions. Allergy to onions can start even in a few minutes, but its intolerance can take up to a day for the symptoms to surface and the reactions are mild.
Your doctor will do an Immunoglobulin E blood test in the lab. This is the most effective way to detect the allergy.
There are some cases, in which you will anticipate allergy, but after this test, it is produced that it is just intolerance.
Thus, it is important to to go for IgE blood test to detect allergy with full evidences.
Your doctor can also perform patch test, skin prick test and intra-dermal test to know about the allergen that is causing the allergy.
Onion Allergy Treatment
If you are allergic to onions, then it is better to eliminate onions from the food. So, before eating outside make sure that food does not contain onion in it.
It is also important to check the labels on ready-made and packaged foods to avoid consuming onions accidentally
If you have consumed onion accidentally, then take antihistamine for curing mild to moderate allergy symptoms
If inflammation in skin has happened, then you can take hydrocortisone to relieve itchiness and inflammation
If severe allergic symptoms have occurred, then you might need an epinephrine injection to restore the body
Mild symptoms like gas and bloating can be taken care of by taking an elimination diet. Such a diet helps in eliminating onion from the digestive tract. Usually, gas, cramps and bloating may disappear immediately after consumption of an elimination diet. This is usually an indication of onion intolerance rather than onion allergy.
Topical steroids are usually used to treat skin reactions and hives that may have broken out on the skin. If the allergy is severe, contact a doctor immediately.