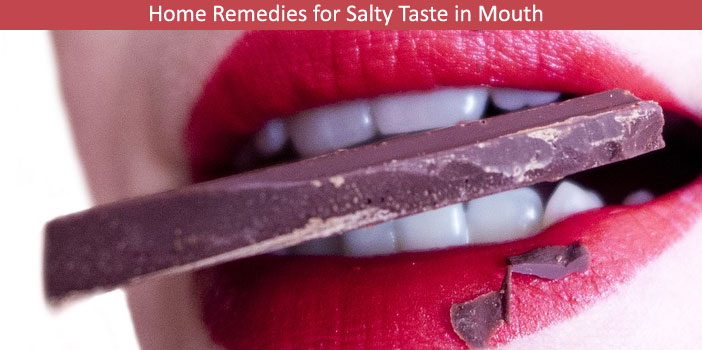 Changes in taste are a much-overlooked phenomenon globally. It may, however lead to troublesome situation if not taken care of properly. We often tend to experience a persistent salty taste in mouth. Therefore, finding out home remedies for salty taste in mouth, causes and symptoms is absolutely essential in order to keep this annoying problem at bay.
The possible causes for salty taste in mouth are as follows:
Dehydration – Dehydration is often cited as a cause of salty taste in mouth. Inadequate water intake leads to dehydration. Many doctors often site excessive intake of alcohol or caffeine as a possible cause of dehydration. High-dose anti-thyroid drugs and chemotherapy medicines may also lead to dehydration and cause salty taste
Salivary gland diseases – Those who suffer from salivary gland diseases like Sjogren's syndrome or bacterial infection of the salivary glands also sometimes suffer from salty taste in mouth
Sinus infection – Saltiness in mouth is not very common when a person is suffering from sinusitis. Other symptoms do aid to the saltiness like nasal congestion which occurs due to swollen membranes of nasal passage thus causing blockage, congestion on cheaks and some parts of the face and post-nasal drip. Phlegm and mucus from sinuses could go backwords to the throat which could be one of the reasons for salty taste. These mucus are acidic in nature and when mixed with bacteria in the nose becomes salty
Nutritional deficiency – In rare cases salty taste syndrome could also occur due to nutritional deficiency, endocrine disorder or even neurological problems
Gerd – Gastrooesophageal reflux disease could be another reason for this taste. Once the food goes to the stomach it mixes with the acid and whole content becomes acidic. In case of acidity these acidic content reflux upwards through food pipe to mouth thus causing saltiness
Dental Problems – Severe infection in gums or teeth could case accumulation of pus. These pus when mixed with bacteria in mouth gives out bad smell and tastes salty
Tear ducts cause salty taste – Remember, when we cry we also get runny nose and this is due to tear ducts, which drain into the nasal cavity often, drain down via back of the throat leading to a salty taste in mouth
Doctors sometimes refer to epilepsy, migraine and brain tumor as possible reasons of salty taste in mouth in very rare cases. Sometimes, the cause of this problem cannot be medically ascertained. Doctors have dubbed such kind of a phenomenon as phantom taste.
Symptoms of Salty Taste in Mouth
Some of the possible signs of salty taste in mouth are occasional nausea
You could also have a feeling of air coming into your mouth causing an awful lingering salty taste
So, if you are persistently plagued by the problem of salty taste in mouth and losing your sleep over this, then go through the home remedies for salty taste in mouth, causes and symptoms outlined below and be free from worry.
Home Remedies for Salty Taste in Mouth
Some of the affordable home remedies for salty taste in mouth are as follows:
Try not to use any tobacco products until the taste fades away
If you are having salty taste in mouth due to some medicated drugs changing the drug use may be of some help
Avoid any type of hot and spicy foods
If the salty taste in mouth is due to a bad bacterial infection then the salty taste will also fade away once you get over with the bacterial infection
Exclude acidic foods like coffee, soft drinks, orange juice, tomatoes etc
You could get rid of the problem by increasing the fluid intake
Cinnamon and similar spices should be avoided
Try to change your toothpaste as it might be causing that bad taste
Washing your mouth with plain water may also reduce the problem to a certain extent
If the problem persists despite trying the home remedies you should consult a doctor to know the root cause of it and act accordingly