Camphor has a cool and refreshing fragrance similar to menthol and is widely used in all the ceremonies and rituals of Hindus. Apart from its prominent role in religious aspects, it is considered with high regards for its natural therapeutic properties for several years.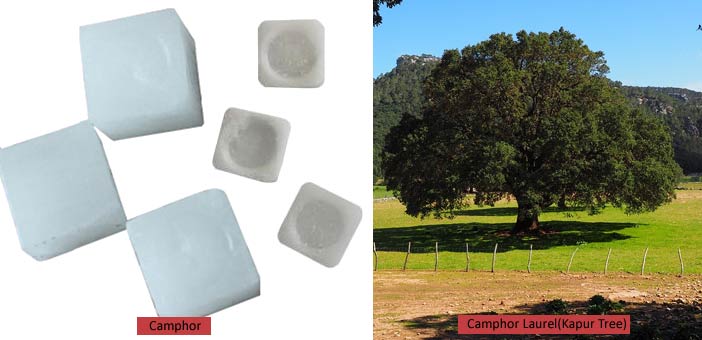 Camphor plays a vital role in every Indian household, as it is an excellent home remedy for several ailments right from cough, insect bites to cardiac issues. This white cubed wonder never fails you when you need a magic healer to get better relief from several issues.
History of Camphor
The camphor is a perfumed substance that is naturally sourced from the camphor tree and belongs to the Easter Asian region. This evergreen tree grows in cold climate areas and reaches over 100 feet in height. The botanical term of camphor tree is Cinnamomum camphora, where the term, "Kinnamomon" meaning spice in Greek.
This tree has green pointed leaves, yellowish white flower clusters and oval shaped berries in red. It has natural, pleasant smelling substance and is a part of the terpenoids family, which has perfumed plant substances like menthol and citral. Earlier, during the 1920s period, camphor was produced through camphor laurel.
Later, it was synthesized through a distillation process by combining wood, leaves and bark of the camphor tree with turpentine oil to produce white waxy camphor crystals and have the formulation, C10H160. It is widely used in the preparation of ayurvedic medicines, pain sprays and balms, tincture, ointments and emulsions.
How to Use Camphor at Home
You can use camphor at home in the following ways to remain free from pain, infection, cold and insects.
1. For Curing Breathing Problems
Camphor has the ability to eliminate the congestion in the lungs, bronchial tracts and nasal region to promote normal breathing. Add a teaspoon of camphor to boiling water and steam for 10 minutes for clearing the mucus.
When you inhale this steam mixture, it acts like the lining of the respiratory organs to protect it against cold and flu. This steam also cures bronchitis and lowers throat irritation.
2. Relieve Acute Pain and Inflammation
As the camphor has sedative properties, it can be mixed with hot sesame oil or coconut oil for massaging it on the body to relieve pains, aches and swelling associated with arthritis, rheumatism, gout and osteoarthritis.
Apply a mixture of hot olive oil and camphor regularly can provide good relief to those who are suffering from neuralgia, an extremely painful condition that occurs due to the inflammation of the cranial nerve. The icy cool sensation produced by camphor numbs and lowers the pain.
3. To Treat Cold In Infants
The home remedy prepared with camphor and coconut oil is an excellent choice for treating cold and cough in infants. Heat 1 tablespoon of coconut oil and remove from fire. Now add a small piece of camphor and wait till it melts completely.
Apply this warm oil on the neck, spine and chest of the infants to help them breathe freely and sleep well.
4. To Get Relief From Itchy And Irritating Skin
The refreshingly cool camphor is a great choice to alleviate irritation and itching on the skin. When you develop a skin irritation or itchiness, apply a paste made with camphor and little water to get relief instantly.
The camphor acts on the affected skin immediately, as its compounds soothe the nerve endings to alleviate the itchiness. It also removes the reddish on the skin surface.
5. For Fighting Fungal Infections
Camphor is used for fighting against toenail fungal infections, as it has antiseptic as well as anti fungal properties and prevents it from recurring. You can dissolve a teaspoon of camphor in a half cup of water and apply it over the infected area. It has anti inflammatory properties that help in lowering the pain of gum infection.
6. To Rectify Cracked Heels
You need not feel bad about your cracked heels anymore, as camphor can deal it gently, as it has rich cleansing properties. It soothes down coarse and rough heels by soothing and toning the skin. Make a solution with water and camphor and soak your feet in this mixture for 7 minutes.
Also, use a foot scrub for exfoliating the dead skins and then pat dry using a soft towel. Follow with a moisturizing cream. Repeat this every week to get soft and toned heels.
7. For Treating Burns
You can use camphor for treating minor burns and can be used for alleviating the scars of burns too. Mix a small piece of camphor in water and spread it over the area that is affected. Repeat it every day until the burn scars are removed. The cooling and calming effects of camphor soothe the nerves and the skin to lower the pain of the burns.
8. To Improve Hair Health
Using a blend of coconut oil and camphor for massaging your scalp will help in improving the strength of the hair roots. It has active substances that improve the blood circulation in the scalp and keeps the follicles well nourished to induce hair growth.
This hair mixture also prevents thinning of hair and restores the sheen and gloss of the hair strands. Have dandruff free hair by mixing camphor with yoghurt, essential oils or egg.
9. To Lower Pimples, Eczema And Acne
This miraculous white substance from camphor tree has useful compounds that cure acne by lowering its irritation and redness. Using camphor regularly will give you flawless skin that is free from blemishes. It is an excellent choice to bring down the swelling and pain associated with pimples.
The anti inflammatory properties of camphor help it in reducing the recurrence of pimples and acne breakout. Camphor also helps in treating eczema by keeping itching under control and prevents it from flaring up.
10. Repel Moth and Insects
Camphor is known to have the ability to repel moth and other insects. Soak a small piece of cloth in camphor oil and leave it in an open place in your room to drive away the insects like flies and fleas. This oil is also useful for head lice and can repel the germs at home.
Placing some pieces of camphor in your wardrobes and cupboards will keep it free from moths. You can also use it to repel mosquitoes by keeping a small cup of boiling water with a few pieces of camphor in the room.
How to make Camphor essential oil at home?
Take pieces or blocks and make powder out of it. Pour 2 cups of coconut oil in a pan and heat it on medium flame. Stir it at intervals so that it doesn't burn. Take 2 tablespoons of powdered camphor and mix it in the oil while the oil is still heating. Mix it well till all the powder is dissolved completely. Once the powder is dissolved completely, remove the pan from stove and allow it to cool down. While the solution is cooling, mix 2 tbsp lemon juice. Store the oil in a air tight container.
Now that you have learnt about the ways of using camphor at home, start using this simple waxy substance in white as an effective home remedy.