Emergency oral contraceptive pills primarily contain Levonorgestrel, which is a form of hormone progestogen. Taking these pills within 72 hours of unprotected sex minimizes chances of pregnancy. Their effectiveness though diminishes with time. If taken within 24 hours they are found to be 95% effective. If the same is taken between 25 to 48 hours, chances of parturiency reduce to 85%. The same goes down to 58% if taken between 49 to 72 hours. These pills are sold in India without prescription but in US it is only sold to people with age above 17 years and that too with age proof certificate. Listed below are the names of contraceptive pills that can be used to avoid pregnancy and are available in India.
Levonorgestrel, the primary ingredient works in 3 different ways as below –
Egg is stopped from being released by ovary
Prevents fertilizing of egg by sperm (if egg is already released)
Stops egg from binding to lining of womb (if egg is already fertilized)
Can these pills be used for abortion?
No, since ECP cannot act on the eggs already attached to the lining of the womb. It cannot be used by already pregnant women for an abortion and side effects cannot be ruled out. One has to cautious and should consult doctor in case abortion is required.
Why morning after contraception is important?
Number of illegal abortions in India is close to 500,000. Close to 10 abortions in India is done illegally, by unqualified personals and illegal clinics out of every legal abortion. Due to abortions, nearly 20,000 women die in India every year according to Individual Personal Assistance Service (IPAS). India ranks on top for number of illegal abortions in the world. The deaths primarily in India could be reduced by use of ECP.
Is it Safe?
As per the manufacturers of these pills, taking them does not cause any serious side effects. Some of the side effects are minor and includes abdominal pain, headache, vomiting, nausea etc. However, its misuse could cause some major effects in long term which is not explained. In no way ECP are replacements for IUD, contraception pills, condoms etc.
Emergency Contraceptive Pills in India – A Review
1. I Pill Emergency Contraceptive Pill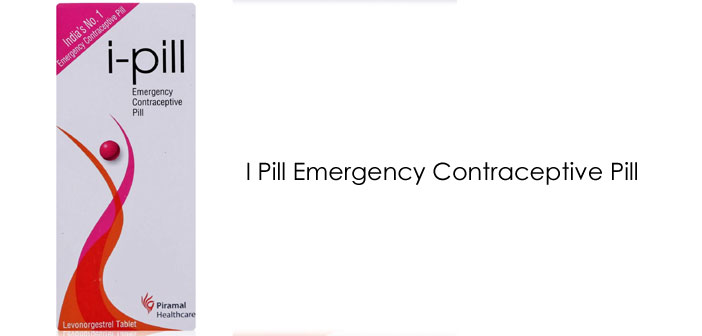 I-pill is an emergency contraceptive pill by Cipla, multinational pharmaceutical company in India. In 2007 the company launched this drug which is sold over the counter(without a prescription). Some of the top points for it are –
I Pill should not be mistaken as an abortion pill
The pill is safe for women between 25 and 45 years old
Its long term use could cause serious menstrual problems
It will turn useless if taken after 72 hours
I-Pill has a maximum effectiveness of 95% and is not full proof
It does not give protection from HIV/AIDS
Mothers feeding their milk to babies could also take it without affecting milk
If a women has allergy with Levonorgestrel, they should consult a doctor before taking it
Price: It costs Rs. 75/- while writing this article and is available with all leading drug stores.
2. Unwanted 72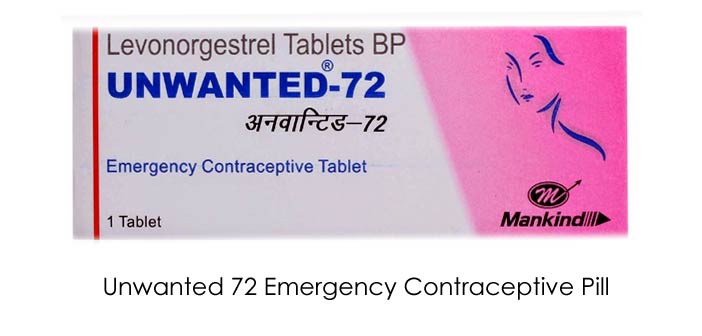 Unwanted 72 come from Mankind Pharmaceuticals, one of the top 5 pharmaceutical companies in India. It comes in a single tablet that contains 1.5 mg of synthetic progestin and Levonorgestrel. It primarily blocks hormones LH and FSH actions in order to prevent pregnancy. If taken within 72 hours, it blocks all actions that cause pregnancy.
Side Effects
Though there are no major side effects of taking this pill, one should be cautious with long term use. People suffering from specific allergies like with Levonorgestrel, pre existing disease, undergone or an upcoming surgery should always consult doctor before taking the drug. Irregular Bleeding is one of the major side effects reported after taking this medication.
Price: It is a bit overpriced as compared with other products in this category and costs Rs. 199.
3. Preventol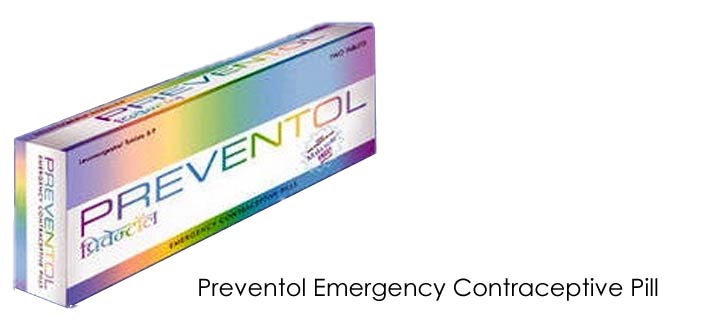 A pack of Preventol emergency contraceptive contains two pills with 0.75mg. One should take the 1st pill just after unprotected sex and the 2nd one after 12 hours. It contains hormone Levonorgestrol which is very similar to female hormone progestin. Preventol is manufactured by Hill Life Care Ltd.
When Preventol should not be taken?
After 72 hours of intercourse
Delayed periods
When uterine bleeding is excessive or abnormal
Levonorgestrol allergy
If there is chance of getting pregnant
It might not be very effective on women taking anti-epileptic drugs
Is there any side effects?
Tenderness of breasts might be one of the side effects. Other effects include dizziness, vomiting, headache and nausea. Most of these effects are temporary. The periods might happen a week before or after the actual date. Nursing mothers could take this pill as there are not much of effects on milk.
Price: One of the cheapest in the category and costs only Rs. 50
4. Truston 2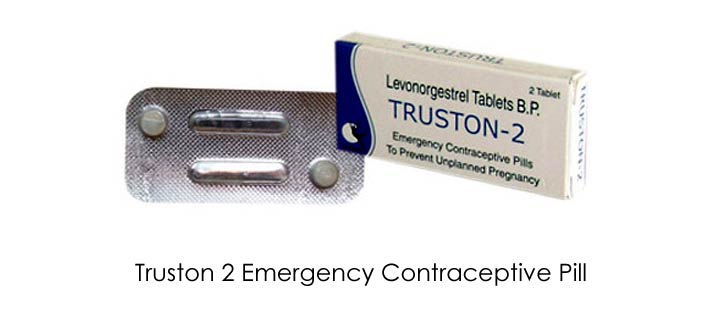 V care Pharma Ltd. is pharmaceutical company behind this drug. The pack of Truston 2 contains 2 pills. One should be taken within 24 hours after an unprotected intercourse and other after 12 hours of taking 1st. It is advised to take the first pill within 12 hours in order to increase its effectiveness.
Price: A pack of Truston 2 is priced very reasonably at Rs. 60.
5. Nextime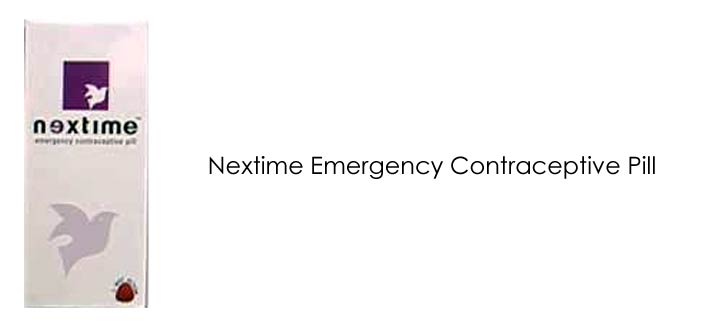 Nextime is developed by Paras Pharmaceuticals Ltd. It contains 1.5mg of levonorgestrol which should be taken within 72 hours of copulation. The hormone present in the pill reduces the growth of the womb's lining and stiffens the cervical mucus. Due to this action the egg and sperm are not able to make any contact which is essential in fertilization.
Side Effects
Some of the top effects include abnormal menstrual periods, headache, vomiting, abdominal pain and nausea. Some women have also complained of mood change after taking the pill but that is not common.
Price: It costs Rs.51.03 for 1 strip.
6. Pill 72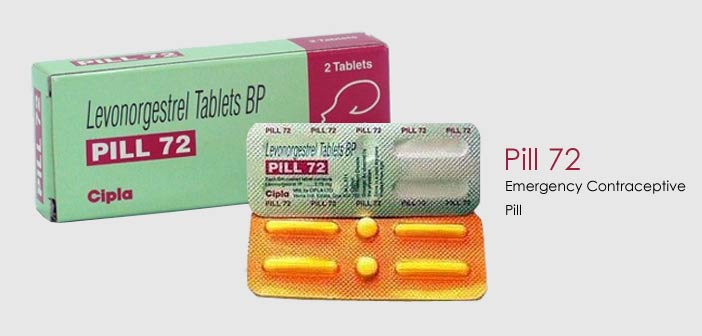 Cipla Limited is the manufacturer of Pill 72, a hormonal contraceptive which comes in a packet with 2 tablets of 0.75mg each. It is a birth control pill that is taken after an unprotected copulation. It could also be taken when there is chances of failure of birth control method being used. It primarily works to –
Prevents ovulation
Stops movement of eggs or sperm
Alters lining of uterus to prevent fertilization
Dosage: Take the 1st table as soon as possible. The 2nd tablet should be taken 12 hours after the 1st one. It could be taken on empty stomach or after food too. In some cases one has to take 2 tablets at once as per doctor's guidelines. It vomiting happen within one hour of taking the tablet then one must consult doctor if the medication has to be taken again. The period might be irregular but not more than 7 days. Consult doctor if that is the case.
Price – Price of one pill is Rs. 34. The packet with 2 pills costs Rs. 68.
7. No-Will Pill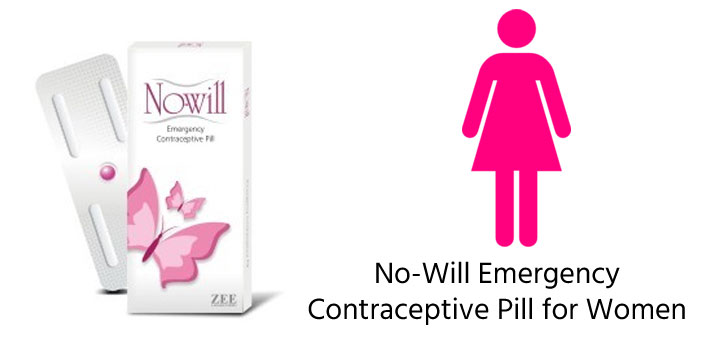 No-Will oral tablet is a product from Zee Laboratories. The packet of No-Will contains single-pill which should be taken within 72 hours, sooner the better. It is primarily taken when people forget regular birth control methods, when contraceptive method fails and improper use of regular methods. It should be noted that these pills in no way should be used regularly.
How to Use it?
It is always better to take it in first 12 hours to have maximum effect and efficiency. However, it could be taken within 72 hours within which it is effective in preventing unwanted pregnancy. To prevent vomiting, one should not take it on empty stomach. Women who are allergic to levonorgestrel should not take it. Its effectiveness reduces with time as below –
Within 24 hours – 95%
25 – 48 hours – 85%
49 – 72 hours – 58%
Side Effects
It has no serious side effects. However, some of the top ones are –
Breast Tenderness
Feeling of sickness
Irregular Bleeding
Lower abdomen pain
Spout
Price: The price for each piece is Rs. 75/-
FAQ
Is there any chance of birth defect if one gets pregnant after taking ECP?
No. None of the studies till date indicate this to be true. Chances of having a baby with birth defect are negligible.
Does taking an ECP work for the full one cycle?
No, It is not effective for full cycle. It is only effective when taken within 72 hours of unprotected copulation. Beyond that it is advisable to use regular contraceptive methods.
Can anyone take this pill?
No, women who are suffering from diabetes, high BP or Levonorgestrel allergy should consult doctor before taking this medication. Women with tubal pregnancy history should also consult Gynecologist before taking it.
Are ECP and abortion pills same?
No, they are not same. Abortion pills are not sold without doctor's prescription and are always taken under his supervision. ECP could be brought over the counter and is in no way aids in abortion. There just prevent pregnancy and that too within the prescribed time period.
How effective is the morning after pill?
Morning after pill is often referred as Plan B. This is because it should be only taken when the primary contraceptive method fails. The effectiveness of the pill highly depends on how soon this pill is taken. Here are some stats you might be interested to know –
95% – Within 12 hours
85% – Between 12 to 24 hours
75% – Within 24 to 48 hours
58% – Between 48-72 hours
The effectiveness is also affected by some of the reasons mentioned below –
Vomiting – Vomiting and nausea are 2 conditions common after taking this pill. The risk of its failure increases if vomiting happens and the tablet is not properly absorbed in the body. Some women might need additional dose but only after doctor's consultation. It it happens within 3 hours then doctor might ask to take it again.
Body Mass Index – Some of the brands are more effective for women with high BMI. A doctor would be able to tell which one is better according to health condition.
Medications – Some of the drugs might interfere in the working of ECPs. The top medications includes but are not limited to one taken during seizure, TB(ex. Rifabutin), HIV drugs, Saint John's wort etc.
Health Conditions – These might now be suitable for people women suffering from –

Liver disease
Porphyria
Crohn's disease and other stomach problems
Hormone related problems
Some Allergies
Morning after Contraceptive Pills are approved in some of the major countries like UK & France. It is sold in 28 other countries. There is no doubt about its authenticity but it should be used in emergency cases only. Complications from its regular use cannot be ruled out as it is not made for that purpose. There are several contraceptive methods available to choose from. Discuss with your doctor and choose a method that is right for you for long term usage.